Grief Over A Lost Friend
It has been almost 2 days since Rockie's spirit left his body. I made the emergent decision to have him put to sleep by the veterinarian after learning that his cancer recurred. The cancer this time was invading the cavity that housed his heart and lungs. There was virtually no space left in the cavity as the tumor was usurping the space. I am still devastated by this news.
Eighteen months ago, Rockie was diagnosed with cancer fibrosarcoma on his left back hind leg. The tumor was visibly large. We were faced with 3 options: euthanasia, amputation of the leg, or chemotherapy/radiation treatments. I did research on the Internet, and Tripawds was immensely helpful. I elected to have Rockie's leg amputated. Per the research I knew that there was risk that the cancer could return immediately if the surgeon could not create clean margins (healthy tissue) around the tumor. Furthermore, I knew that there was a chance the cancer could reccur despite the surgeon getting clean margins. Others said their cat lived anywhere from 1-3 years after the amputation. I begged God to give me another 2 years with this pet. At this time Rockie was 12.
God gave me 18 months, and honestly, I am satisfied I got that extra time with my beloved pet.  Every time I saw him I would smile, talk to him in a baby voice, and hold him tightly. I did not know how much time I would have with him. If I had to repeat this situation with Rockie, then I would. My mother thinks differently, however. She said that she probably would have euthanized him instead of having the amputation. Her reasons for this are because Rockie was not able to do the things he was previously able to do. Rockie never successfully walked with his 3 legs. He hopped around. Also, he needed assistance getting on the sofas and beds. We bought him a soft stuffed staircase. Also, he could not jump onto the window sill anymore and bask in the sun. Lastly, my mother, like I, was devastated that the cancer returned anyway. I agree with my mom; Rockie couldn't do the things he used to after the surgery. Also, it is heartbreaking that this vicious disease made a comeback. Everyone has a different opinion about situations especially sensitive ones involving pets.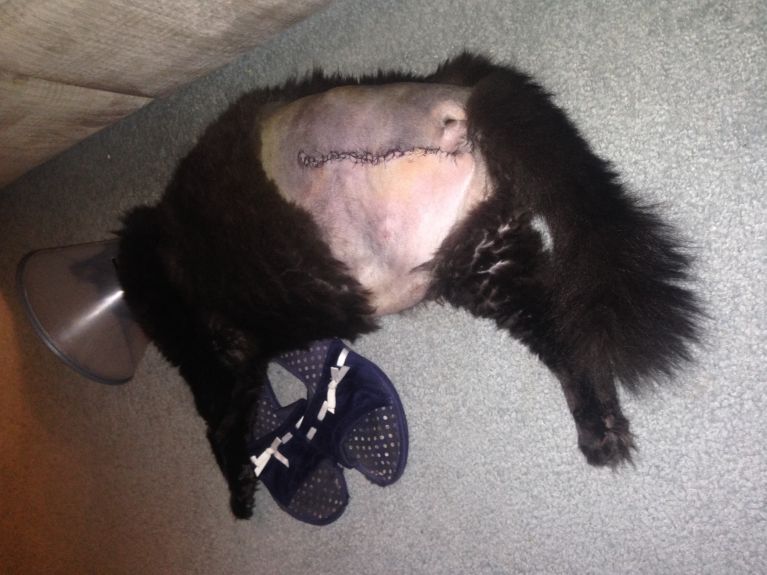 Tags: amputation, cancer, death, fibrosarcoma, grief
This entry was posted on Friday, February 17th, 2017 at 12:13 pm and is filed under Cancer pet death, Uncategorized. You can follow any responses to this entry through the RSS 2.0 feed. You can skip to the end and leave a response. Pinging is currently not allowed.